There is perhaps no other season cast with as much tradition as Christmas. I wait all year for those first Christmas carols sung in church, excitedly anticipate the first Thursday of December for our Main Street's annual Jingle and Mingle on Main, and have Thanksgiving Break calculated down to a science: breakfast and Macy's parade Thursday morning, a table by the window at Soho, martinis and Santa's long awaited arrival on Friday, and a day of decorating and tree trimming on Saturday, followed by a movie under the Christmas tree. I love tradition for its comfort and warm familiarity, and am blessed to have a childhood rich with traditions, many that I hope to continue in my own home for years to come.
Our tree. There have been years where I thought about a themed tree, gravitating towards the color-coordinated bows and ornaments at department stores, secretly wishing for a tree that looked as though it could get up and walk down the runway itself. But Beau, who usually leaves the home decisions up to me, was insistent on a tradition tree covered in the ornaments passed on to us from our childhoods.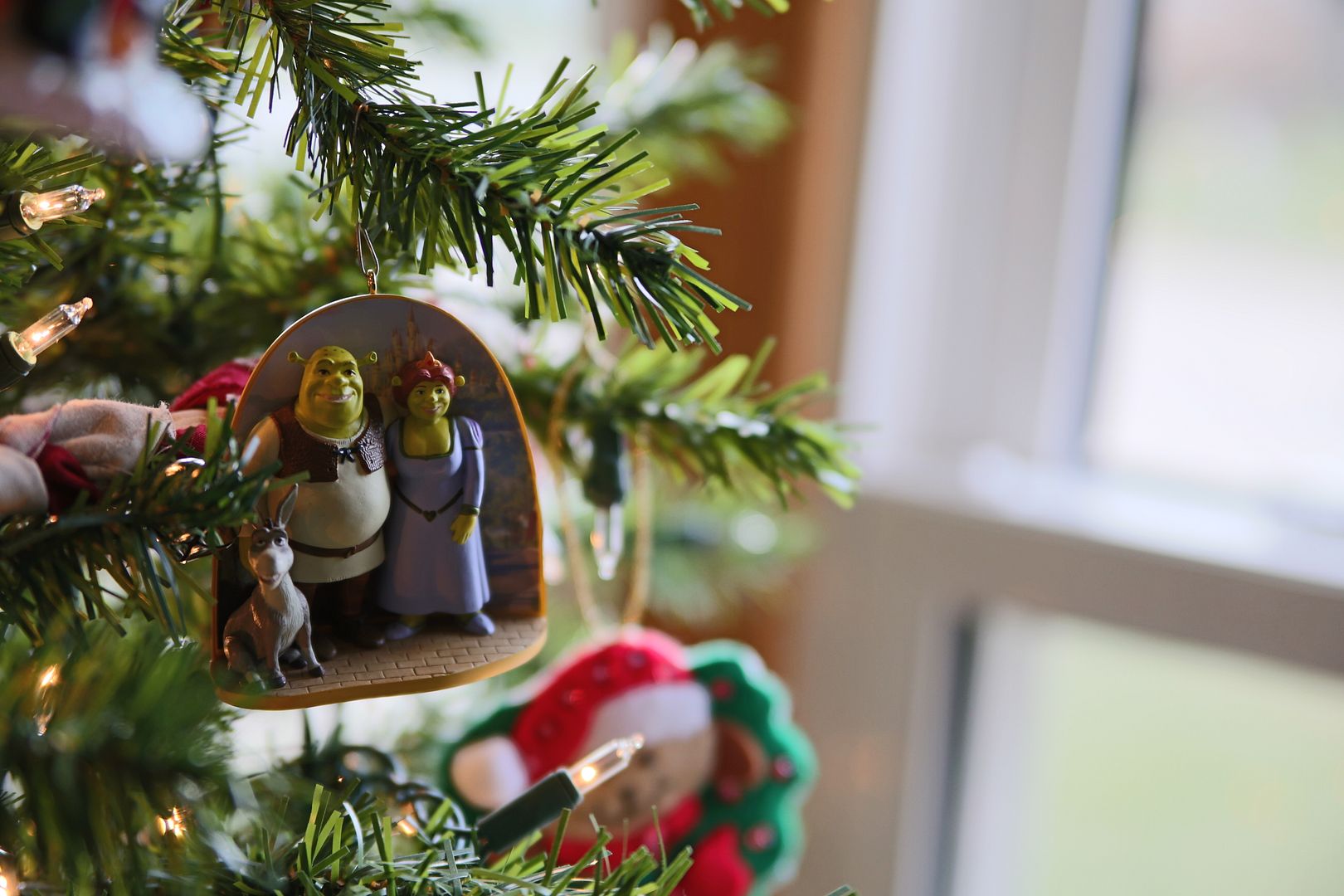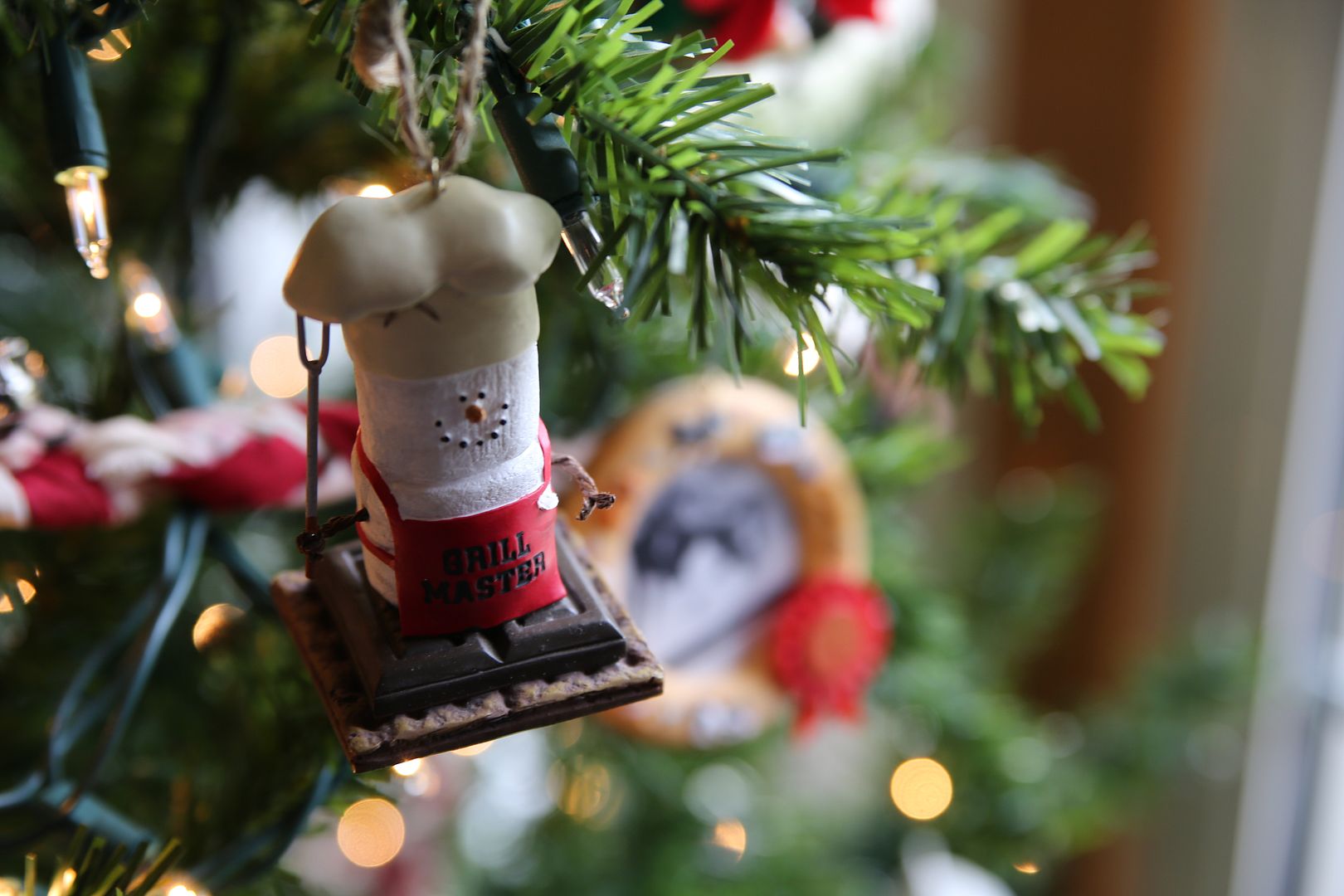 I love our tree, and love it now that we have a family more than ever before. I love that we have boxes of ornaments, each telling their own story of a particular year, memory, or milestone of our history. I love the handmade ornaments from my Grandma Henrichs, and remember 18 of them, one for each grandchild, carefully hung from the window when we arrived to her house for Christmas. I love Beau's extensive Hallmark ornament collection, and I love the four identical Shrek ornaments, given to us one year from about everyone who knows us to symbolize our first date. I love the 'First Year Together' ornament, the 'First Home Ornament,' and the baby blue ornaments that remind me of our first Christmas with Cruz. I love the Green Eggs and Ham ornament that reminds me of Cruz's first favorite book, the shopping bag ornament that plays my favorite song, and the Snoopy ornament that Cruz will not leave on the tree. Our tree is a history of us, displayed just once a year, and I love the stories it tells.
Christmas books. Books have always been a big deal in my house, and while I want Cruz to have a vast collection of books at his fingertips, there are certain ones saved especially for December. When I was younger, I used to find and collect every Christmas book we had in the house, put them in a carefully calculated order, and place them under my little brother's bed. Then, every night, I'd crawl into bed with Taylor and read a new story to him. I remember this so well --- the Christmas lights outside reflecting on the window, the navy blue lamp shade creating cozy lighting in his room, and pronouncing 'Magi' as 'Maggie,' and not being corrected by Mom because the book reading was my thing. I'm not sure if Taylor remembers this or not, but it was something I looked forward to and took quite seriously every year.
This year, before the month of December started, I collected 24 Christmas books and introduce a new one to the rotation every night before tucking Cruz in. Some of them are old, some saved especially for Christmas, and some new ones I've wrapped and let Cruz open before bed, or let him pick out himself during one of our frequent 'dates' to Barnes and Noble.
Here are a few of our favorites:
...Llama Llama Holiday Drama
...The Christmas Quiet Book
...Who's Coming to Our House
...Ten on a Sled
...The Jingle Bell Ball
...The Christmas Kitty
Mitten Advent Calendar. I saw this cute idea a few years ago and I tell you, it's getting more fun every year we do it. 24 little mittens, hung on a string of twine across our mantle, with tiny treasures and Christmas fun tucked inside each one. Cruz and I count them almost every morning, and he loves digging inside each one to see what awaits him. Some days, it's a chocolate treat to eat on the way to school, and some days, it's a little present --- a Santa Pez dispenser, a Hot Wheels car, or a sticker. And other days, he finds a message --- something to do, like dance to a Christmas song with Mom, make a paper snowflake, or go look at Christmas lights in our pjs. Tonight, we may just have to do that one...
And just as I'm a sucker for a good holiday tradition or two, there's also a part of me that always craves the simple, the unplanned, and the spontaneous around Christmas time. An impromptu Thursday night eating tacos at Pablos, with a Scratch cupcake afterwards, and a little boy who definitely did not want to wait in line for Santa Claus. A Christmas craft or two, pizza and an even cheesier Hallmark movie, and quick, thrown-together plans for Boone, our beloved Elf on a Shelf. Because all of our best ideas seem to happen at 10:00 at night...
Boone needed a sponge bath after this one...
My favorite so far, thanks to my creative husband. Boone was feeling pretty daring this morning...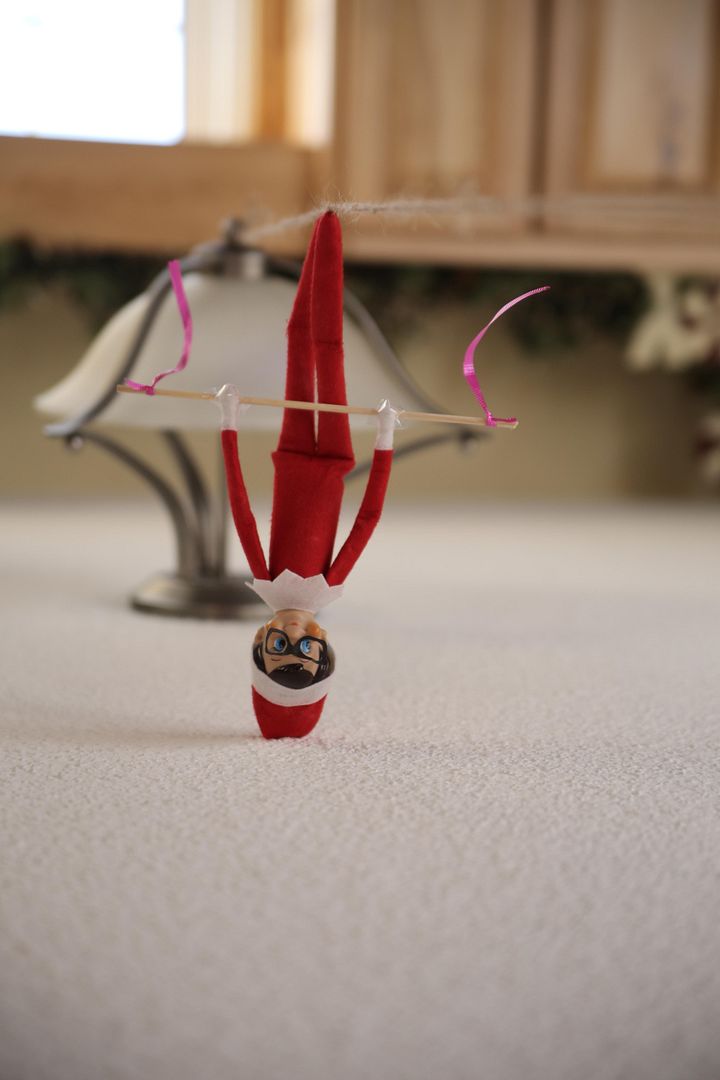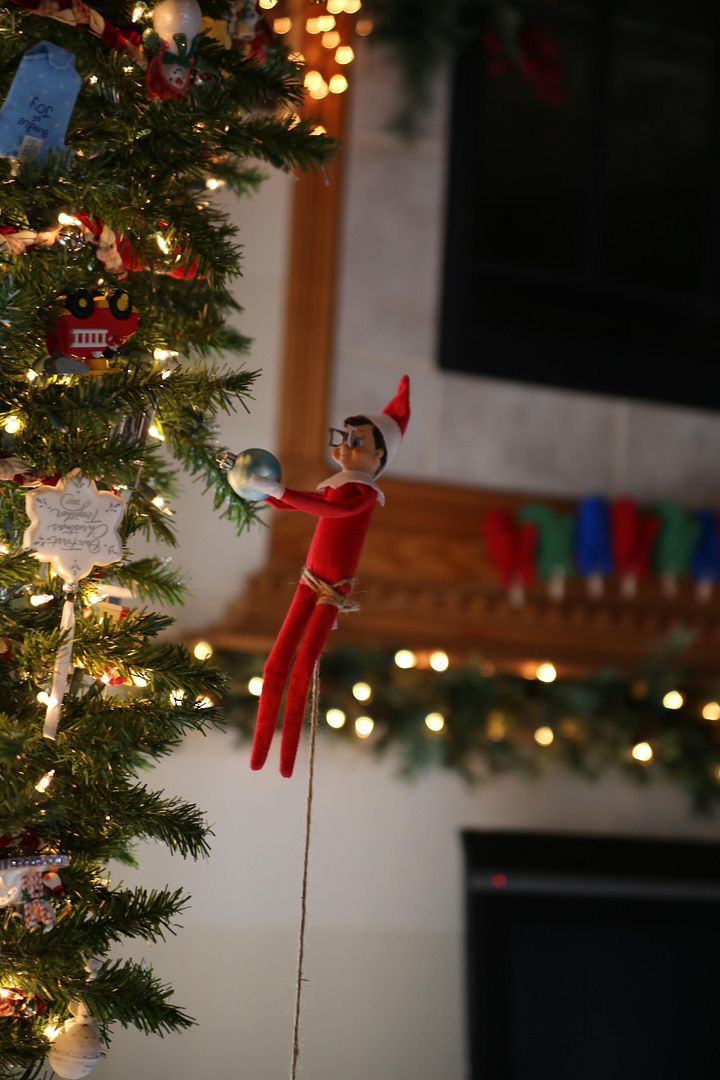 Mission Impossible: Tree Trimming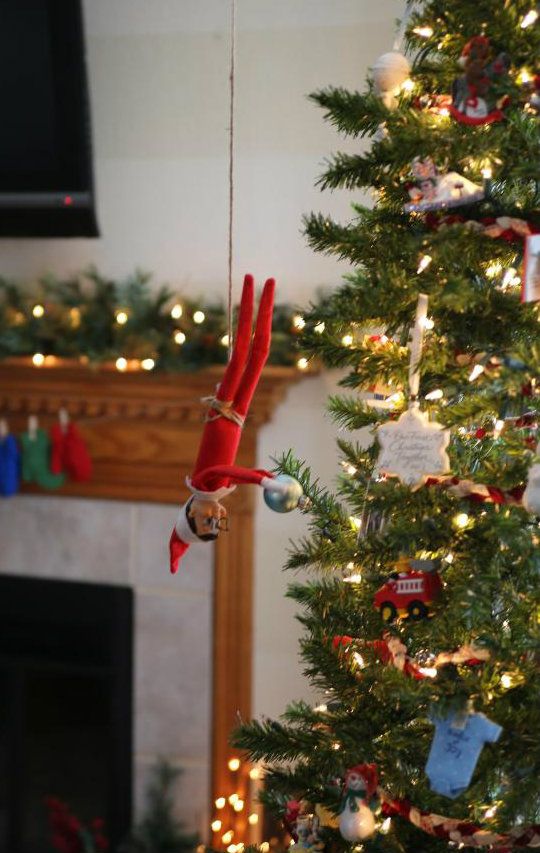 Our trademark cupcakery, Scratch, proved to be a warmer place to be than standing in line for Santa. Cruz would rather not come in contact with Santy this year.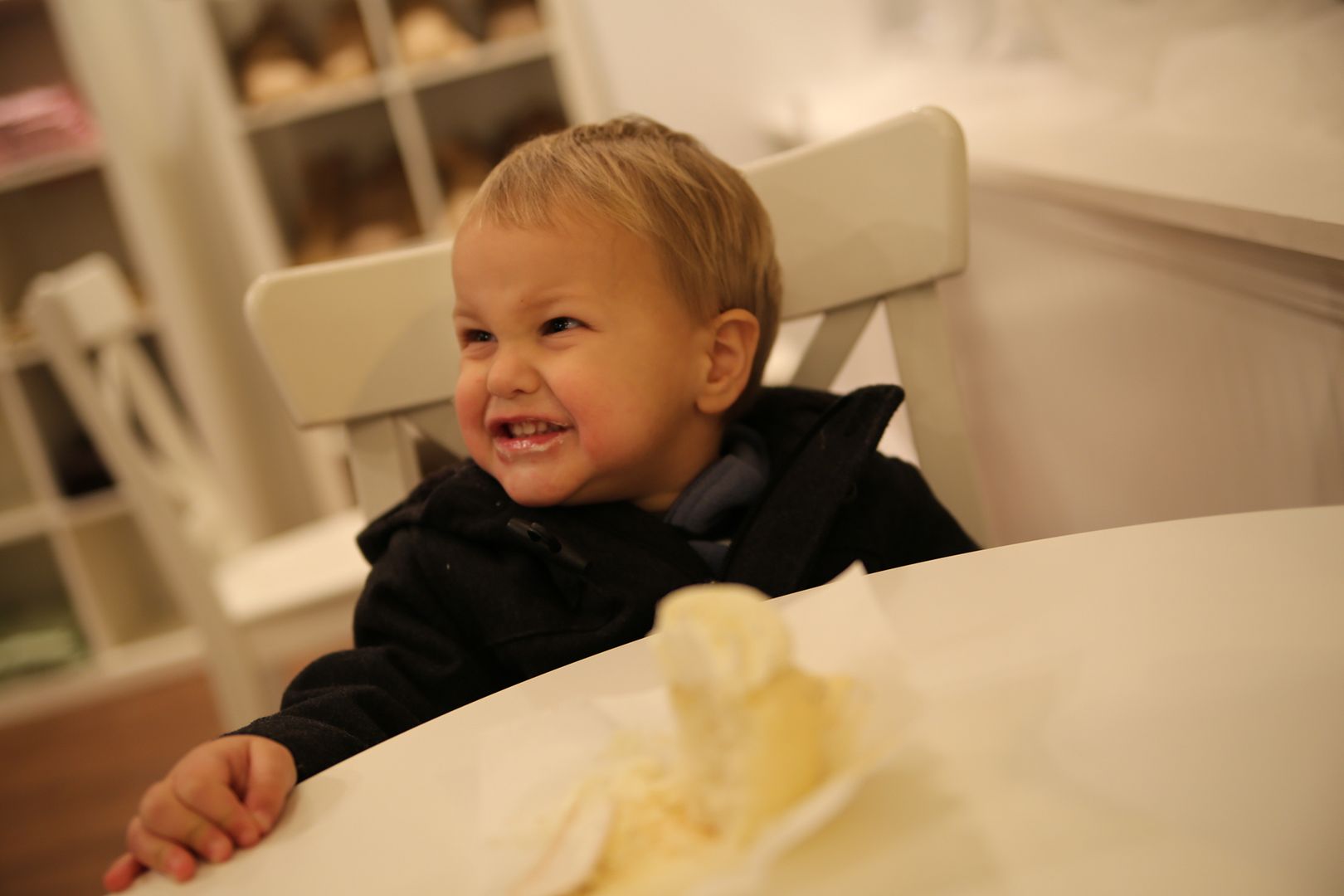 The husband and some bokeh
With a little over a week before Christmas is here, I hope for tradition and sweet surprises, unplanned adventures and the comfort of familiar. I hope for peace, love, and joy, in whatever way they are wrapped.
What are some of your favorite holiday traditions?