On Saturday, I had the privilege and honor of standing behind the scenes and witnessing one of the most vulnerable, intimate, and memorable statements of love two people can express in a lifetime.

That one moment in time when your guard is completely stripped away, and you find yourself standing directly in the middle of what has been and what will be, in this surreal moment where nothing seems to exist but you, a man on one knee, and a box with a ring, just moments before it's slid onto your finger.
When Rob asked Beau and I to help him arrange his engagement proposal to our cousin, Jillian, I did not take this responsibility lightly.

After all, this is one of the single most important moments of a girl's life – a moment she has dreamed about and visualized in her mind since the days of Cinderella, Pride and Prejudice, and Ryan Gosling in The Notebook.

Let's just say, the men in our lives have big shoes to fill by the time we reach engagement age ;)
Rob is a man we've considered family from the moment we met him, but I think he really stole my heart the first time I saw him hold Cruz, and the last time I saw him talk to our sweet Grandma J.

There we all sat, in the nursing home gathering room at what would later become our last Christmas with Grandma J.

We were all keeping busy --- chasing Cruz around, playing Christmas songs on the piano, stirring salads and setting out bingo cards, and I overheard Rob have a conversation with Grandma J.

He hugged her, grabbed her hand, and told her how beautiful her brooch was.

Between that gesture and the look on Grandma J's face, I was a puddle on the floor.

This example, and especially the sweet way he is around Jill has made us and the rest of our family know for quite some time that Rob was the one for her.
Rob and Jill are special to us not just because they are family, but because we have grown close by proximity in recent years.

Although they met as undergraduate students at Iowa and both found themselves working closely with Iowa Hawkeye Athletics during most of their relationship, Rob's path has most recently led to a smaller regents' university just north on 380.

Rob is now at UNI, working as a sports marketing director for the Panthers.

We've loved having him close, loved that we see Jill more now that Rob's home is here, and love that our family ties have now evolved into a closer friendship with the two of them.

It doesn't hurt that Cruz loves both of them, and both Rob and Jill love our boy to pieces.

Rob and Jill were one of the first couples to meet Cruz, and were actually along for Cruz's first out-to-eat experience.

Rob didn't hesitate in the slightest when I asked if he wanted to hold Cruz, and has since taken over bedtime stories, dinnertime feedings, and boat rides on the 4th of July without a second thought.
The plan was to attend the UNI/Iowa game together, give Jillian grief as our UNI purple now outnumbered her 3:1, and make fake plans to go downtown and celebrate a UNI victory with some Buck Hunter and chicken wings at Brothers.

With about three minutes left in the game, we left to meet 'our friends' downtown, while Rob and Jill went to see some of Rob's old co-workers in the press box.

This is when our work began.

Instead of the ped mall, Beau and I got the keys to Halse Hall out of Beau's pocket, and went on a search to find the door that opened the old brick building and dance studio room where Rob and Jill first met.

There, we got to work, arranging a trail of pale pink rose petals from the door to the center of the room, lining our trail with white votives, and attempting to figure out how my camera and I could become invisible in a room where 3/4 of the walls are made of mirrors.
After a few minor snafus (a dead cell phone battery and brash attempt to prop open every single door in this odd shaped building), Beau and I tiptoed to our hiding spot, where I began to think about three things: 1) How will Jill react? 2) How can I get pictures without being a distraction? and 3) How will we know if the room starts on fire before they get there?

Ten minutes felt like ten hours, but just when I began to panic over fifty votive candles lit on a rubber floor in an unattended room, I heard a door creak and heard two sets of footsteps quietly make their way into the room where it all began.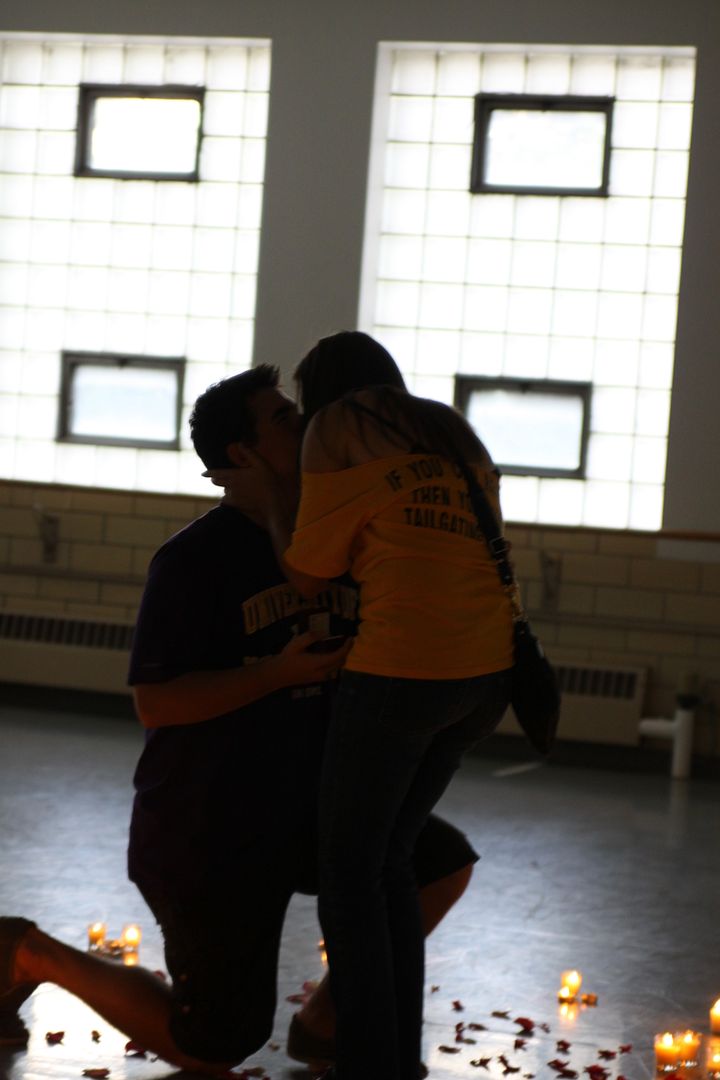 It was so neat to be part of this amazing moment and watch Jillian begin to put the pieces together from Rob's carefully constructed plan.

But what she didn't know, and what ended up being the biggest surprise of the day, were the many people waiting, including Janet (mother of the bride-to-be), and Kelly (sister of the bride-to-be), at Red's, Rob and Jill's favorite pub, to congratulate the new couple.

So, we smirked while Jill called her mom (who she thought was home in Chicago), then turned around and called her sister (who she thought was at school in Madison), and secretly wished they were there to see her ring, give her a hug, and share this special moment in person.

And her face when we walked into that party room was exactly what Rob had likely envisioned.

This look was the icing on the cake for him, the last success in a chain of events that couldn't have went better if they were written into a Nikolas Sparks book itself.
Well done, Rob, and congrats to one amazing, adorable couple.