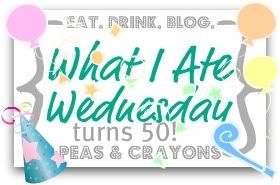 Happy WIAW to all my fellow greenies out there. It's a special edition of "What I Ate Wednesday" as it's the 50th round of link ups. Want to join the party? Check out
Peas & Crayons
and join in the fun each Wednesday.
Aside from the "niftty fifty fun", it's also the first WIAW for 2012, which means my Christmas Break is over and I'm back to school teaching. Wah wah wah. Although I'll miss sleeping in, working on projects, and enjoying late-morning photo shoots like the one below with this little cutie...
How can I leave this sweet face?!
Mama's got to work! Besides, I love my job teaching 3-5 year olds, so it's been fun to catch up with them and be back in my normal routine. Oh and a little break from this "fit face" doesn't hurt too much either...
Watch out, it's Avery's new "fit face"!
If anything, going back to work just reminds me to appreciate the time I have with Avery even more.
So without further ado, let's get my food recap started. Here's this nursing mama's gluten-free, vegan food for the day...
Workout:
1 hour yoga with
Bethenny's Skinny Girl Workout DVD
. I'm such a fan of Bethenny's other workout DVD,
Body by Bethenny
, so when I saw this new one on Amazon I knew I had to buy it and I'm glad I did. It's a great workout, and although it's a little harder than the first DVD, I enjoy the challenge.
Are you curious when I get up to do this workout? 4:45 AM. I know that seems early, and it is, but that's what time Brandon gets up for work too, so it helps that he's up as well. On a good day, I'm up, had a snack (see above) and I'm downstairs and working out by about 5:30 AM. Do I seem crazy for getting up this early? Probably, but I have my reasons:
1. Avery is asleep...and she usually stays asleep until about 7:30 AM so I can workout alone and not be interrupted (doesn't always happen though).
2. I love to workout in the morning so that I can have it done and crossed off my list. I can't imagine going to work all day and then have to go workout, I would skip it every time. That's just me though. I know for some people, getting up early isn't an option or maybe they have more energy in the evening. Whatever floats your boat. For me, it's first thing in the morning. Don't get me wrong though, by Friday getting up at this time is not so fun. Thank goodness for the weekends.
Mid-morning snack: Gluten-free, vegan pancakes from
Cinnamon Quill. Tried this new recipe over break and it
rocks! Reminds me of "normal pancakes".
Like my "shot" of orange juice? I'm not a juice person, but I love orange juice with pancakes, so this tiny little glass gives me just the right amount.
2nd mid-morning snack: an organic Valencia orange.
Lunch: "15 Minute Creamy Avocado Pasta" from Angela at
Oh She Glows with Tinkyada gluten-free spaghetti noodles.
Didn't think I'd like this one, with the avocado as the "cream"
but it was surprisingly delicious. Loved the garlic flavor!
Mid-afternoon snack: a "Bloomin' Apple" (organic Gala)
Mid-afternoon snack #2: Chocolate Chip Cookie Dough Larabar
Just-got-home snack: "Chocolate & Vanilla Smoothie":
SO Sugar-free Vanilla Coconut Milk, 1 scoop Chocolate
Sun Warrior Rice Protein Powder, 1 handful of spinach,
1 1/2 frozen bananas, 3 frozen strawberries.

This is kind of similar to my "Chocolate Ice Cream Smoothie" from breakfast, but smaller and with a different flavor from the rice protein powder.
Dinner: Mexican Casserole with corn,
millet, quinoa, pinto beans, tomatoes, salsa, Daiya cheese,
onions and some spices...and of course corn tortilla chips.
Happy WIAW! See you next week.