Happy Wednesday everyone! This is my official last Wednesday that I will spend teaching. This time next week I will be on summer vacation and enjoying lots of "Ash & Avery Time" (along with crossing tons of things of my to-do list). Until then, here are my gluten-free, vegan eats for the day, as linked up to
WIAW
over at
Peas & Crayons
...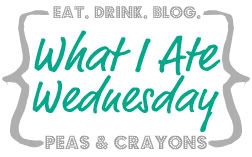 5:00 AM Just woke up snack: Sausage McMuffin
(aka Food for Life Gluten-Free English Muffin,
with a Sol Veggie Breakfast Patty and some maple agave nectar.)
Workout:
1 hour workout on the treadmill...intervals: run 4 minutes, walk 1 minute. Anyone else slightly addicted to the feeling you get after running? I always feel like I breathe deeper after running. Not to mention that I love the slight soreness and fatigue I feel in my muscles (legs especially). I take it as a sign that I had one good workout!
7:30 AM Breakfast: Chocolate Ice Cream Smoothie
Chia seeds, hemp seeds, raw cacao powder, rice milk,
2 frozen bananas, 5 frozen strawberries
9:15 AM First Morning Snack: Peanut Butter Cookie
Larabar
10:30 AM 2nd Morning snack: Gluten-free, vegan pancakes
from Cinnamon Quill with Maple Agave Nectar. I make these
sugar-free by substituting the sugar out for coconut sugar.
To make this lasagna gluten-free I used
Tinkyada
rice noodles. To make the sauce more "meaty" I skipped the Field Roast sausage suggested (since it has wheat in it) and used this "
Meatless Meat Sauce
" recipe of mine. I've also found that if I used 1 1/2 jars of spaghetti sauce it helps to keep the lasagna from getting too dry (as opposed to just one).
2:15 PM 1st afternoon snack: 1 organic apple
5:30 Just-got-home snack: "Chocolate Vanilla Smoothie": vanilla
coconut milk, Chocolate Sun Warrior Rice Protein Powder,
spinach, 1 1/2 frozen bananas, 3 frozen strawberries
Can you tell I need to buy more of the vanilla flavor? I've been
out for a while and just keeping having this one, day after day!
I don't mind though.
Then I got home and played with this little one who discovered my camera today...
"What's this Mom?"
I tried saying to her, "Smile!" Then I'd take her picture and show her how it looked on the screen afterwards and she thought it was pretty funny!
Like the no shirt look? We were gearing up for dinner, and after treating too many stains to count in the past few months, I've learned to just take the clothes off! The pants came of right before we ate as well.
"Whoa picture time!"
"Okay, I'll smile."
"Mom...more pictures? Come on."
Telling the world "hello".
Then she started to get a little tired, probably since we're trying to wean her off her early evening nap so that she'll sleep longer during the night (which is actually working pretty good-knock on wood!).
Resting on the couch, apparently only her head was tired.
Then it was time for "sleep rolls" as I call them, where she'll end up on the ground while playing and then she'll just lay there, even while playing. Now Avery never lays down, only when she's really tired, so this was a rare sight!
"Just sleep rollin' guys, nothing to see here."
Then it was time to take sleepy girl to dinner...
7:15 PM Dinner: "Homemade Genghis Khan" with gluten-free
rice noodles, baked tofu, corn, mushrooms, broccoli, carrots,
and onions all cooked up on our wok with chipotle spices,
cilantro, and Braggs Liquid Aminos. One of our favorite meals!
A must-have for this meal is this Trader Joe's Sweet Chili Sauce!
It's gluten-free and vegan (oh and delicious!).
I call it "Stir-fry ketchup"!
Remember how much I love any type of Mongolian BBQ? Check it out in this
post
, this
post
, or even this
post
where I compare it to why I wanted a home birth! Can you tell I love this kind of food?
She perked right up for dinner and as usual, went crazy for the tofu!
"Did my mom put tofu in this?"
"Wow!"
"I'm going to eat it all up!"
Can't even remember what silly thing she was doing here.
Nothing but fun, when you eat dinner with Avery.
Then she did her "new trick": blowing kisses! She does this any time you leave her, start to say "goodbye" or if she just feels like it. The best is when she is laying in her bed before she goes to sleep, and after I say, "Goodnight" I see her peek through the slats of the crib and blow me a kiss...gosh I love that girl! ( :
Wait for it...
"Mmmwaaaa! Kisses to you greenies!"
See you all next week!