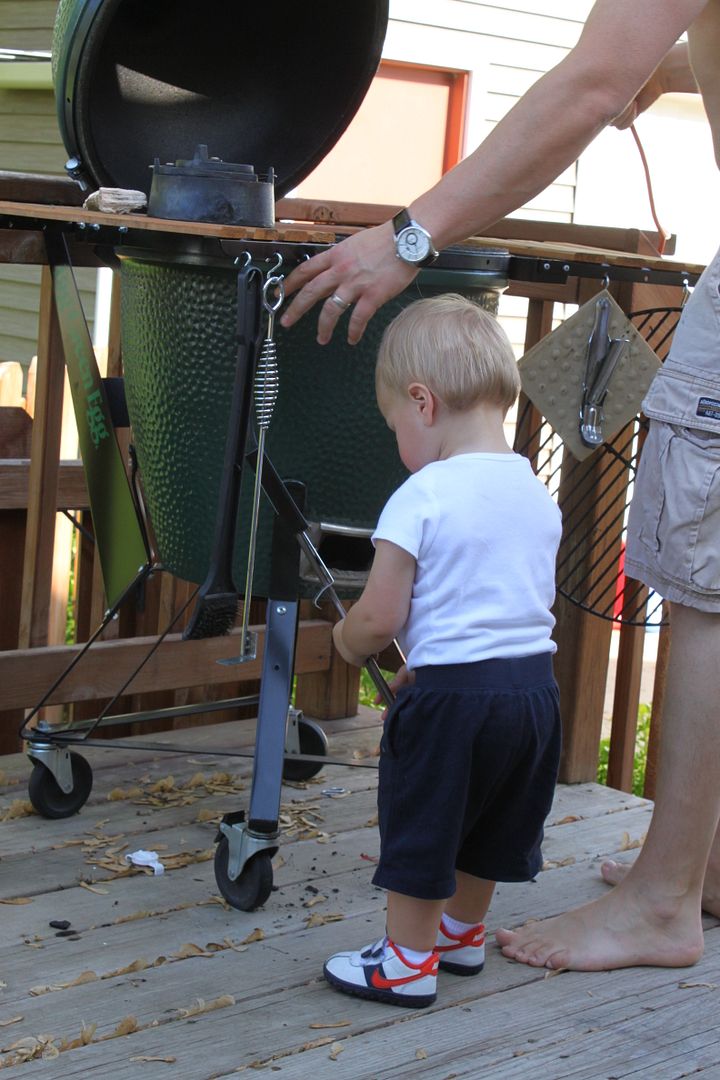 Last night's meal proved a couple of things to my husband and I: 1) Beau does indeed take me into account when he grills; and 2) you can cook something delicious, flavorful, AND healthy!
My husband LOVES to grill, possibly more than he loves anything else on earth. Frankly, I'm a little surprised I haven't caught him spooning his Big Green Egg in the middle of the night. His friend referred to him as the "meat hero" the other night on the phone, and Beau said it was the best thing that's ever happened to him. Take our first date, our honeymoon, and the birth of our first son, and they all get a back seat to his now 'meat hero' status. And I thought his head was big to begin with...
At least a couple times each week, and especially more at the onset of summertime, Beau calls me after school and asks if he can grill for dinner. And because my meal plan always leaves some wiggle room for leftovers, pizza, and Beau, I usually welcome this request. I welcome his request with my usual reply of...
"So steaks, a potato, and grilled asparagus it is, huh babe?"
Now don't get me wrong. I love a man that can cook, and love that my husband shares these roles with me at home. I also love that he grills thee best asparagus out there and prefers charcoal over gas. All I'm saying is that when he decides it's a sit-on-the-deck-and-grill-a-steak night, he keeps me in mind about as much as a vegetarian. He sort of hitches a ride back in time to Apartment 504, khaki cargos and no shirt, bean bags, and four male roommates, tipping back a long neck and thinking about the glory days and a perfectly cooked steak. And because I love my husband dearly, I let him have these nights (and the hour conversations about pork butts and bacon explosions with his college buddies, now strewn across the country), and try to class up the dinner with a fresh salad or savory side.
So, much to my surprise last night, I arrived home to chicken tenders, cilantro pesto, and quinoa. Quinoa, what? Beau said he knew I was interested in trying healthy and fresh alternatives to some of our favorites, and thought this sounded good. He handed me a Pacifico, complete with a tasty lime wedge, and shooed me out to the backyard to lay on a quilt with Cruz while Beau devised an amazing aroma in our kitchen.
The food was fabulous. Fabulously easy, fabulously refreshing, and fabulously healthy. We'll be making this again, and I think the cilantro pesto would pair perfectly with a ribeye or t-bone ;)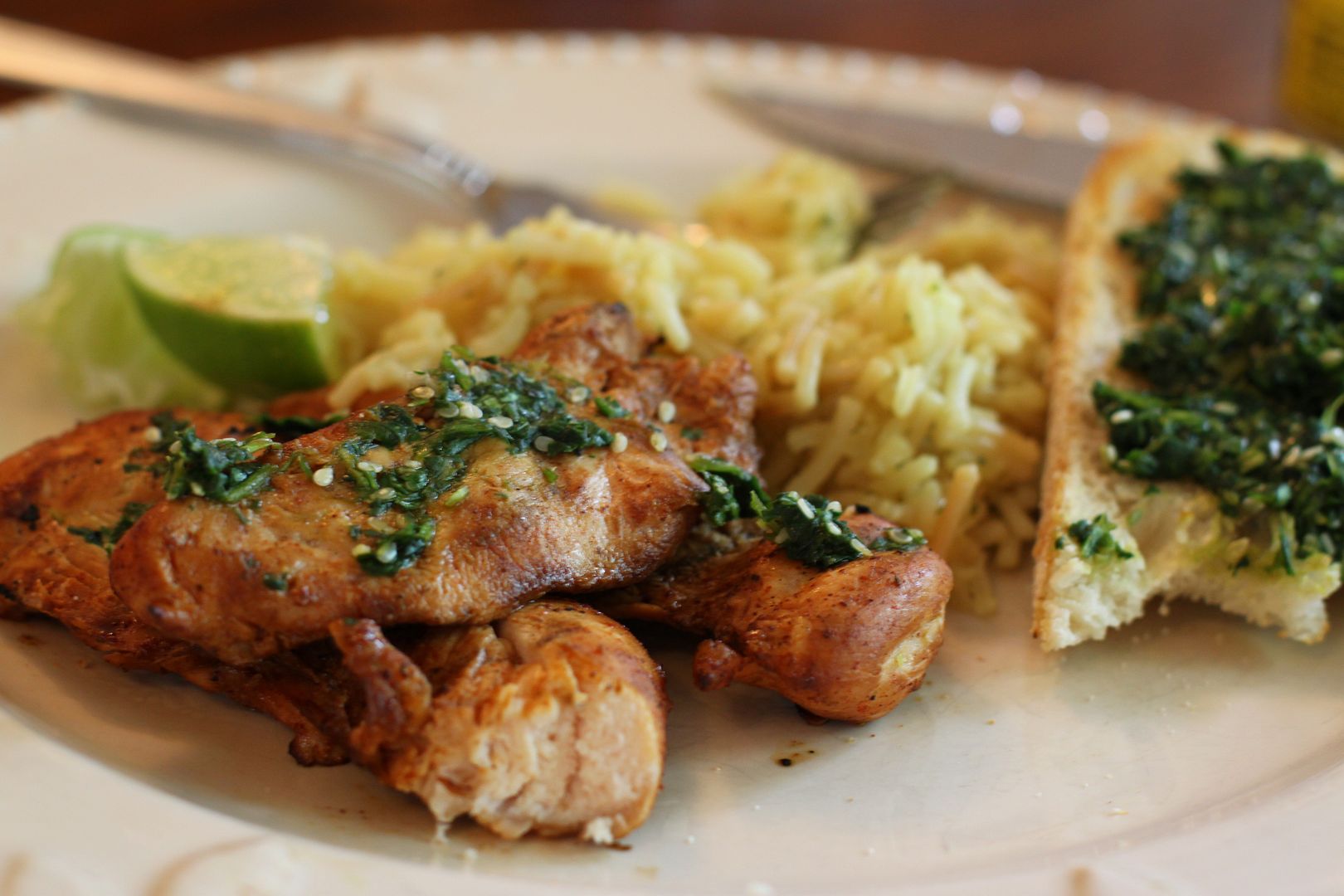 Grilled Chicken Tenders with Cilantro Lime Pesto
Ingredients:
1/4 cup lime juice
1/4 cup soy sauce
1 tablespoon olive oil
1 teaspoon chili powder
1 pound chicken tenders
2 cups loosely packed fresh cilantro leaves, (1-2 bunches)
2 scallions, sliced
2 tablespoons toasted sesame seeds
Preparation:
1. Whisk lime juice, soy sauce, oil and chili powder in a large bowl. Reserve two tablespoons of the marinade in a small bowl.
2. Add chicken to the remaining marinade; toss to coat. Marinate in the refrigerator for 20 minutes or up to 1 hour.
3. Preheat grill. Meanwhile, place cilantro, scallions, sesame seeds and the reserved marinade in a food processor and process until fairly smooth.
4. Remove the chicken from the marinade (discard marinade) and grill until cooked through and no longer pink in the middle, about 2 minutes per side.
5. Serve the chicken with the cilantro-sesame pesto.
*We also spread the pesto on yummy pieces of sourdough bread, and decided to save our quinoa for another time and used up some minute rice instead.
Until next time!