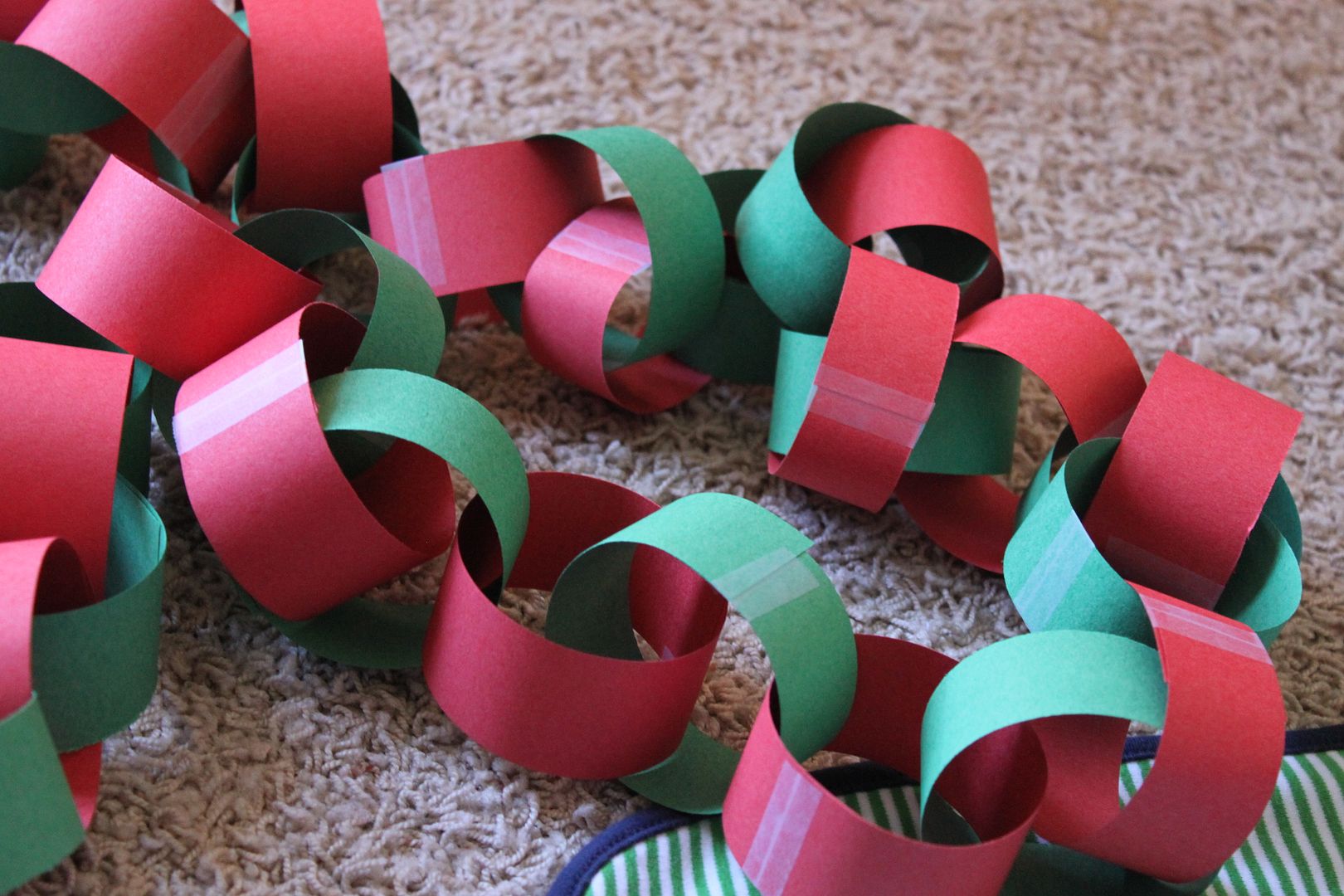 When I was a little girl, I would decorate my room for Christmas with a paper chain. Every year, I would tape piece after piece of red and green construction paper together to create my very own decoration that would help me count down the days of Christmas. I'd hang it from my window and every night, I'd tear off a single link and read a different Christmas book to my little brother. I remember pulling the books from the shelves, stacking them under my bed, and spending hours putting them in just the right order. I remember crawling into Taylor's bed, pulling the covers up to our chins, and reading to him as the outside Christmas lights reflected through the frosty window. I don't know if Taylor remembers this little ritual I made him be a part of, but it was special to me.
This morning, I made another paper chain to hang in Cruz's window. We plopped in the middle of the living room floor amidst the remains of Christmas decorations I haven't found a place for and taped piece after piece of construction paper together to create his very first decoration. We listened to Christmas music together and the twinkly lights of the tree put Cruz in a happy baby trance.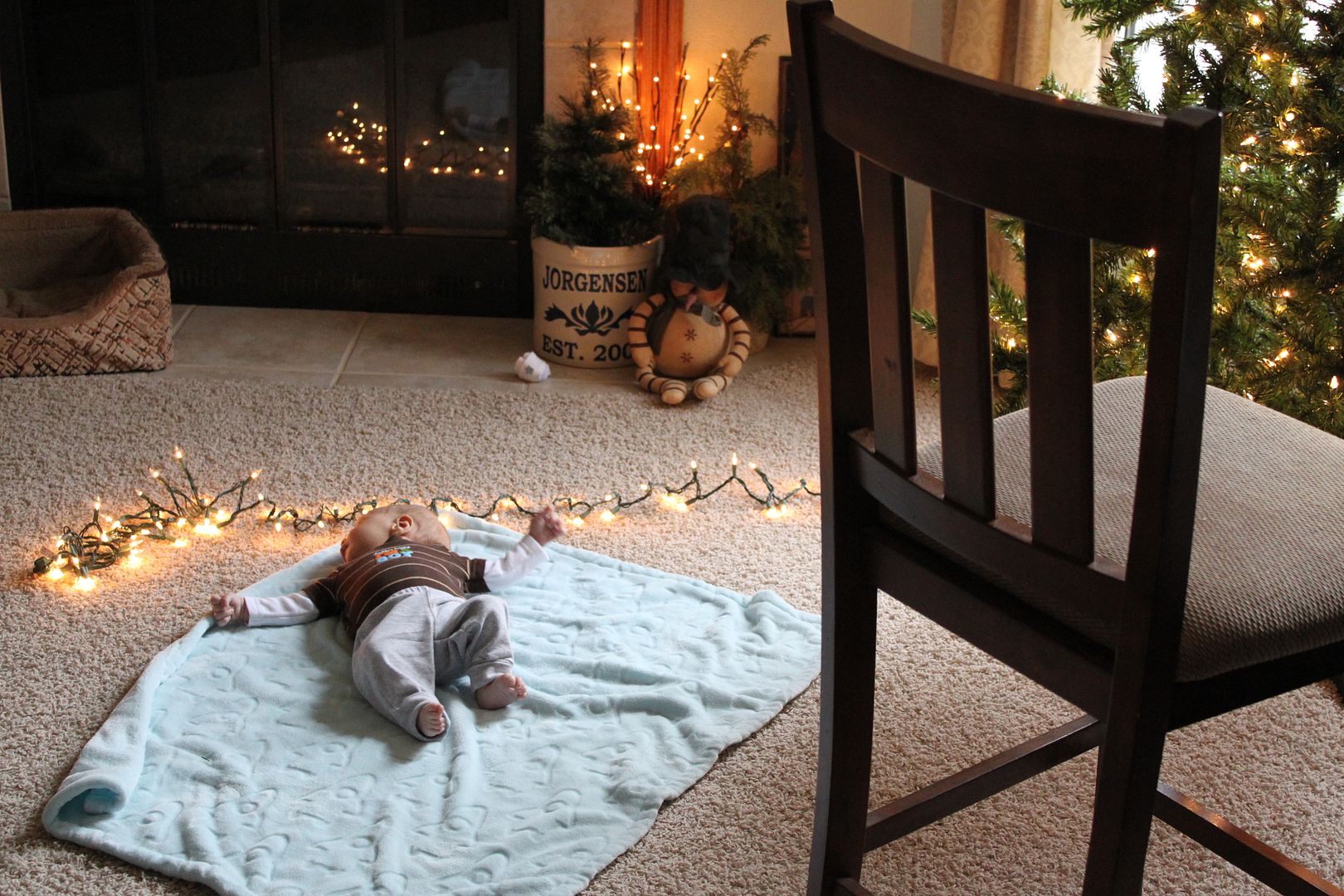 As I watch him lay so peacefully next to the Christmas tree, working on his voice as if trying to sing along to the Christmas music, I am reminded how special this season is for our family. Before he'll remember Santa and stockings, presents and wrappings, this Christmas is about enjoying the simple magic of this season. It's about enjoying the blessings that overflow in abundance…
What's in my cup this morning?
...Being home with Cruz. These are the days I will never get back, the days I will never forget.
...Watching Cruz discover his first glimpses of Christmas. I watched his eyes follow a string of Christmas lights as I strung them on the tree the other day. He was totally mesmerized.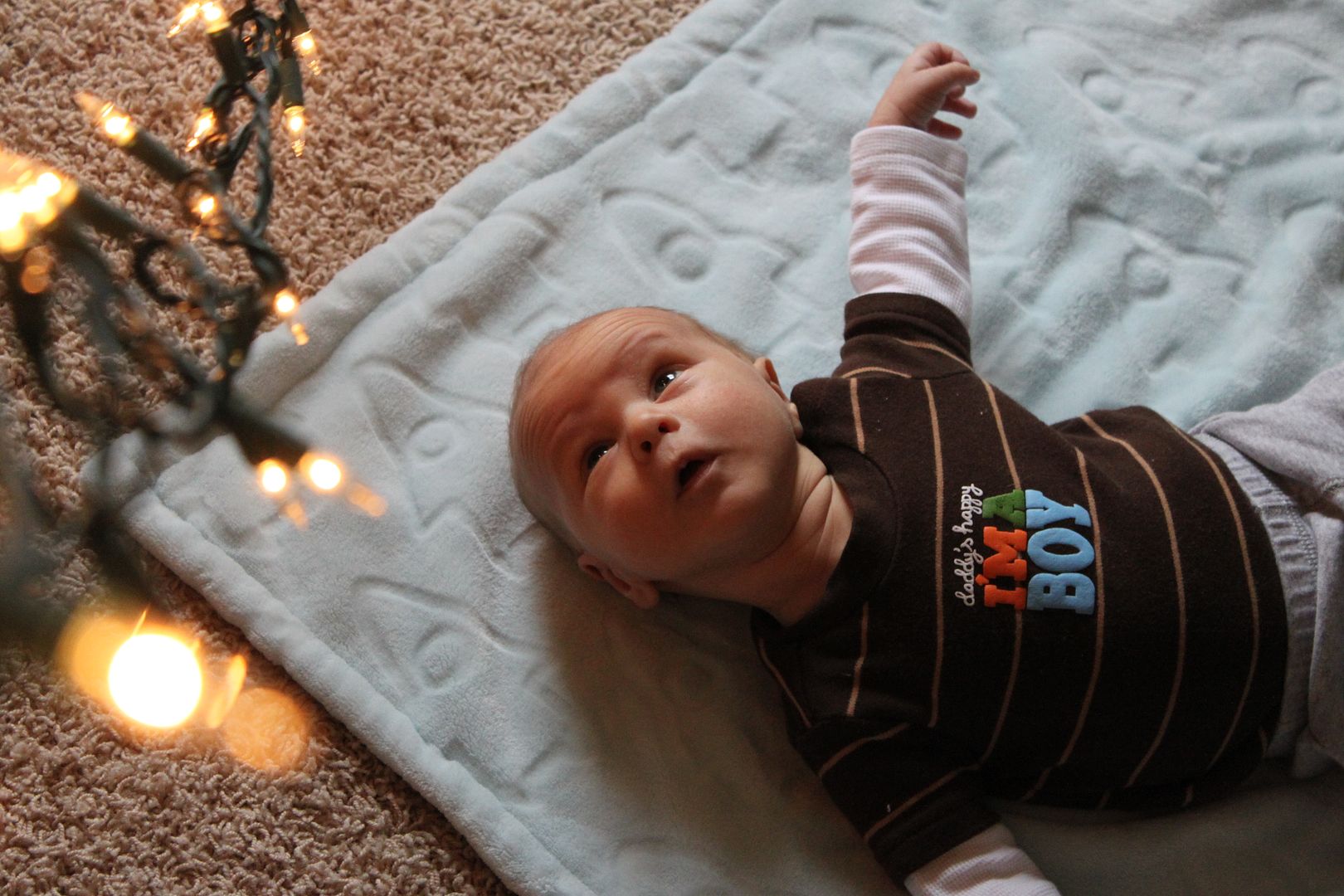 ...Nursing at four o'clock in the morning in front of the Christmas tree. The only thing that could make this better is snow falling out the window.
...Sushi and half-priced martinis with the girls last night. A husband that looks forward to his 'guy's night' with Cruz and the twenty pictures he texted me throughout the night to 'remind' me of how cute they are.
...The look on Cruz's face as he struggles to wake up in the mornings. His nursery seems as though it's ten degrees warmer than the rest of the house and he always looks so snuggly in his crib.
...A full night's sleep! Cruz slept through the night last night – 10-7:30! Sleeping through the night or late-night feedings in front of the Christmas tree?!?! It's a gamble!
Thursday is Thanksgiving and I'm so excited for it. Cozy car rides home, and family time around the table. Snowsuits, stuffing, and tree decorating. Scouring the Target ads, wrapping the first present, and hanging a paper chain in our baby's room. And, most of all, sharing all that is Thanksgiving with a new little Cruz.
I've dreamed about this holiday season for a very long time.